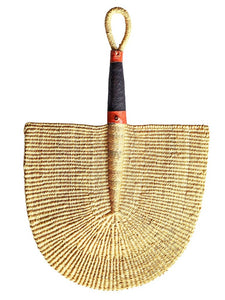 Natural Woven Grass Fan Two Tone Leather Handle
Regular price $30.00 Sale
This beautiful hand fan is made from woven elephant grass and is handmade in Ghana, showcasing exquisite African craftsmanship.
The fan is not only practical for keeping you cool on hot days, but it also adds a touch of warmth and texture to your wall as a stunning piece of African decor.
The unique woven design of the elephant grass creates a beautiful pattern that is both eye-catching and functional, as it allows for maximum air flow. The natural material of the elephant grass adds to the fan's organic and rustic feel, making it a perfect addition to any natural or boho earthy-themed home.
Whether you use it to cool yourself off or as a decorative piece on your wall, this handcrafted elephant grass fan is sure to impress with its intricate design and attention to detail.
It's a must-have for anyone who appreciates quality craftsmanship and beautiful, functional, African decor.
Size: 14 - 16 inches long | 9-10 inches wide
Each fan is hand made in Ghana slight imperfections are common.