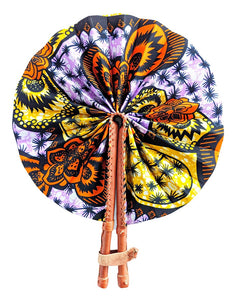 Purple Orange Ankara Fabric Folding Hand Fan
Regular price $25.00 Sale
Purple and orange Ankara fabric folding hand fan, the ultimate must-have accessory for summer and any day you feel hot.
Enjoy the funky vibes of this stunning fan, designed to make a statement wherever you go.
The fan features an exquisite Ankara fabric, renowned for its bold and intricate patterns that capture the essence of African culture. The striking combination of orange and blue hues creates a visually stunning contrast, adding a vibrant touch to any outfit.
Designed for convenience and portability, this folding hand fan easily folds up, allowing you to take it with you to every event and social function. Whether you're attending a beach party, a garden wedding, or a rooftop gathering, this fan will keep you cool and stylish in the summer heat.
Crafted with care in Ghana, using authentic African print fabric, this hand fan not only showcases the beauty of African craftsmanship but also supports local artisans. By choosing this accessory, you contribute to the preservation of traditional skills and promote sustainable production practices.
Make a statement and elevate your summer style with our Orange Blue Ankara Fabric Folding Hand Fan. It's the perfect companion for your next vacation, bringing a touch of African flair to your travel adventures. Stay cool, stay stylish, and embrace the spirit of African culture with this essential accessory.