Spring is a season of renewal and growth, and what better way to celebrate it than with some vibrant updates to your home. 
DIY home updates you can do yourself with African fabrics. Whether you're a seasoned crafter or just starting out, these 9 African fabric diy craft ideas for the home are perfect for spring.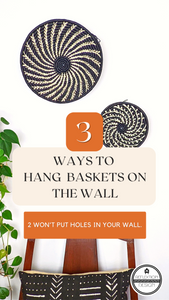 One of the biggest issues we run into when decorating with baskets is how to hang them on the wall. I'm often asked, what's the easiest way to hang baskets on the wall? Good news, I've got 3 methods you can try 2 of which won't put holes in your wall.